In 2012, the effort to end polio made historic progress. The year ended with the lowest number of new polio cases in the fewest places ever. There were fewer than 250 reported  cases, compared with  350,000 cases in 1985, when Rotary began the fight to end polio. Today, we are "this close" to creating a polio-free world, and we need your help.
Become a polio eradication advocate by signing a petition, sharing your voice over  social media, launching a fundraising campaign, or telling your polio story to local news media. In the fight to end polio, your voice is a powerful tool.
Becoming an Advocate
Get the facts about polio and spread the word via your social networks, throughout your local community,  with the press, and to your government.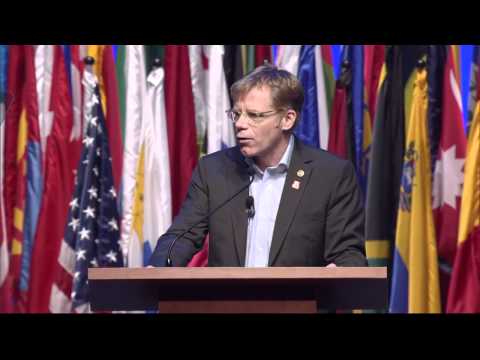 World Polio Day
Where are we in the fight to end polio? What have we accomplished? How can we make history together? Find out on World Polio Day.
To mark World Polio Day on October 24, Rotary and Northwestern University's Center for Global Health will host a live-streamed global status update on the fight to end polio, featuring invited guests including Global Polio Eradication Initiative partners, celebrity ambassadors, polio survivors and Rotary members.
Download tools to raise awareness for World Polio Day.
For our progress to continue, we must ensure that polio immunization campaigns are fully-funded. World governments, nonprofits, businesses, and individuals have contributed in support this humanitarian endeavor.  Now we ask you to add your voice in urging world leaders to provide the critical funding needed for the final push to end polio forever. Your advocacy efforts can help to ensure no child will suffer from this disabling – but totally preventable — disease again.
Please sign the letter below to help make history by achieving a polio-free world.
Invite policy makers (members of parliament, ministers, members of Congress, development agency representatives) to a local Rotary club meeting to discuss the progress against polio and how they can make history by supporting the fight to end polio.
Fundraising
Rotary and the Bill & Melinda Gates Foundation are extending their partnership during the critical endgame phase of the Global Polio Eradication Initiative.
From 2013 to 2018, every US$1 Rotary commits to WHO and UNICEF in direct support for polio immunization will be doubled (up to us$35 million per year) by the Bill & Melinda Gates Foundation.
The fight to end polio is a massive effort that Rotary and its partners cannot do alone. Only one other human disease, smallpox, has ever been eradicated. With your help, we can make history today by ending polio.
Secure support from governments, nongovernmental organizations, corporations, and the public to fully fund the polio endgame plan.
Working With The Media
Send a letter to the editor or submit an op-ed voicing your support for the fight to end polio. Suggest a polo eradication story to a local reporter or editor.
Rotary International maintains an extensive library of high-resolution photos, HD videos, advertisements and graphics to support polio eradication efforts. Use these materials to spread the word to you're the news media in your community.
Show Your Support
Spreading the word is as easy as putting on a t-shirt or posting to Facebook. Show your support by shopping the End Polio Now store or changing your desktop wallpaper or Facebook cover photo to support the fight to end polio.
Wallpapers
Add the End Polio Now message to your desktop, tablet or smartphone and your social profiles to spread the word about eradicating polio.
Shop End Polio Now
Purchase T-shirts, pins and other materials to show your support for polio eradication.
Social Media
Post, tweet and share End Polio Now banners, backgrounds, covers, posters and videos. Spread the word!